Today, the government set out plans to raise National Insurance by 1.25%. In this blog, we'll explain what that means and how the increase will affect you.
What is National Insurance?
National Insurance is a UK tax on earnings and self-employed profits, used by the government to fund a number of state benefits.
A few of the ways National Insurance is used include:
the State pension
statutory sick pay
unemployed benefits
How much you pay in National Insurance depends on your income and whether you work for an employer or yourself. Let's look at a breakdown of the new National Insurance rates.
If you're employed
If you work for a company or pay yourself a salary from your limited company, you'll need to pay Class 1 National Insurance. This is taken from your gross, pre-tax salary.
The amount you pay is decided from your income.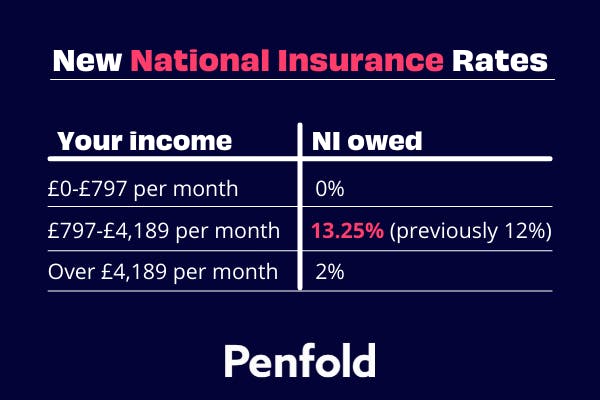 Under the new rules, if you earn £30,000 you'd pay £226.35 a month, or £2,716.25 over a year. This breaks down as 0% on your first £9,500 and 13.25% on the remaining £20,500.
If you're self-employed
If you're self-employed, you'll owe Class 2 or Class 4 National Insurance, payable via your tax return. Class 2 applies if your profits are £6,515 or more a year. Class 4 if your profits are higher than £9,569 a year.
Class 2 rates are £3.05 a week while Class 4 is now 9% on profits between £9,569 and £50,270 and 9% on profits over £50,270.
This won't be changing as part of the new rates. However, tax on dividends is also increasing by 1.25%, meaning in the future, you'll owe more tax on any profits you take from your business.
You don't need to pay National Insurance when you reach State pension age, currently 66.
How much will National Insurance go up?
The government has announced that National Insurance rates will increase by 1.25% across the board - starting in the next tax year, April 2022.
For those in employment, this means you'll now need to pay 13.25% on earnings up to £4,189 a month. You still won't owe any National Insurance on the first £184 of your monthly income.
There has been some concern about how these new rates will have a bigger impact on those with a lower income - as a greater proportion of their wages fall into the 13.25% rate.
Under the new rules, someone earning £30,000 would owe £2,707 over the year - £255 more than before. 
How to reduce your National Insurance
If you're concerned about the new rates, one of the best ways to reduce the impact of National Insurance hikes is through salary sacrifice.
Salary sacrifice is where you 'sacrifice' a small part of your salary for a pension contribution. Your employer will need to opt-in a salary sacrifice scheme first - but you ask your HR or Finance team to look into it.
By contributing more to your workplace pension, you lower your pre-tax salary and reduce the amount of money you'll need to pay National Insurance on.
Essentially, you get to keep more of your hard earned money.
Here's a quick example. If you earn £30,000, you'd normally pay £225.58 every month as National Insurance. However, if you instead added £100 into your workplace pension via salary sacrifice - you'd only owe £212.39. Over the course of a year, you've just saved yourself £158.
If you'd like to find out more about National Insurance, check out our blog on salary sacrifice or get in touch to discover how your company can help trim your National Insurance contributions with a Penfold workplace pension.