We want you to feel confident about your decision to save into a Penfold pension, so here's an overview of how those savings are invested.
If you'd like to revise the basics first, here's our Introduction to investing, and you can refer to our glossary of pension terms for context.
Where is my money invested?
Penfold has partnered with BlackRock, the world's largest asset manager, to invest your money for you. They work hard to protect and grow your savings over the long term through a wide range of low cost investments around the world.
All you have to do is choose from one of four easy options for how much risk you are comfortable with, and Blackrock take care of the rest. We can help you decide which level is best for you, but it is always your choice and you can change any time.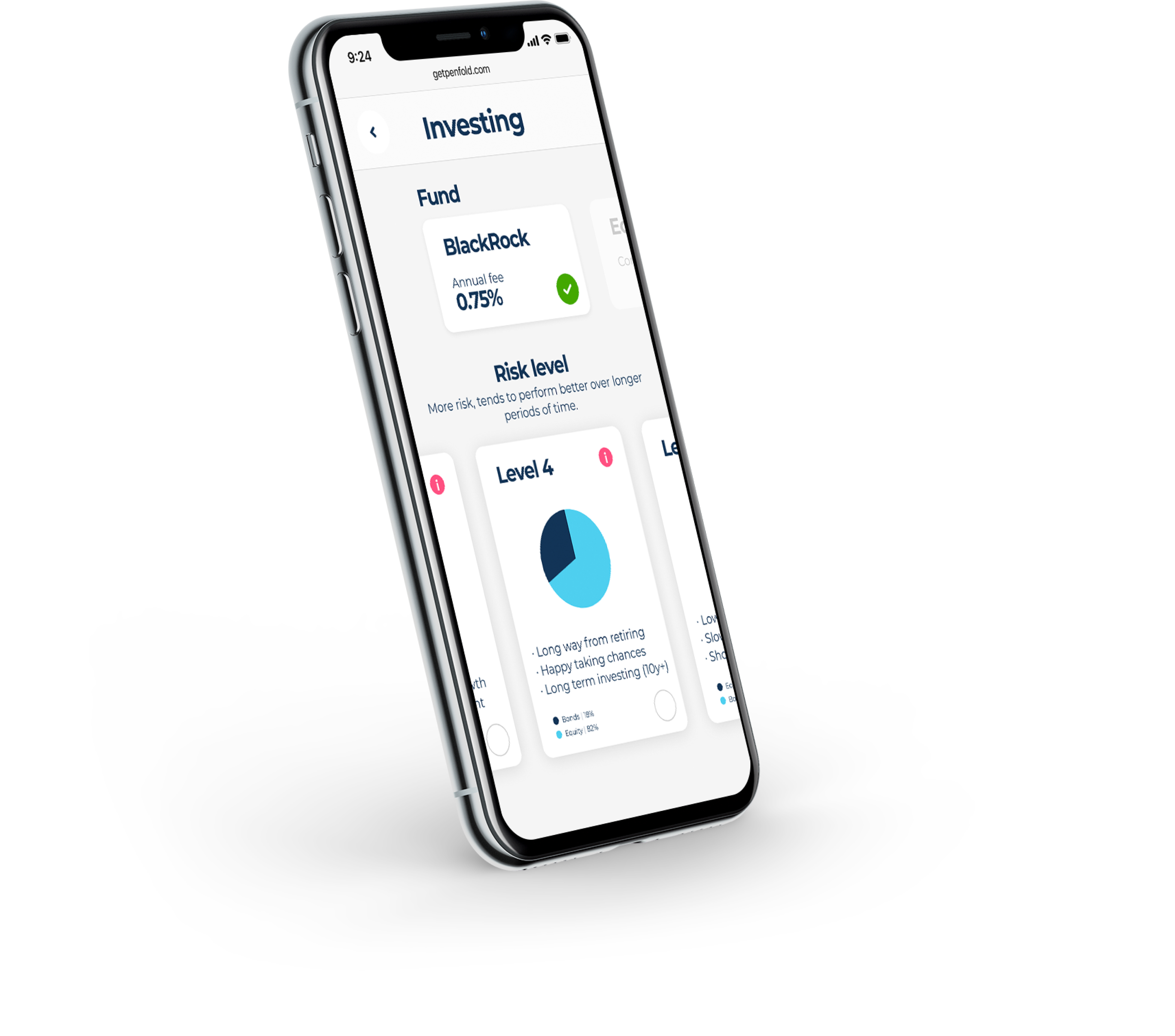 How does BlackRock manage my money?
BlackRock invest your money in line with their MyMap strategy, which is specifically designed for long term retirement savings. It is low cost, broadly diversified, and built to react to the market, so that the ups and downs should be within the level of risk you are comfortable with.
No investment is risk free – taking risk is good as it should help your savings grow over the long term more than just sitting in a bank account. BlackRock add an extra layer of 'risk management' for your money though, which should help protect it in times when global investment markets are less stable. This should give you the peace of mind to leave your investments in place for many years and not have to check them from day to day.
You can read more about how Blackrock invest your money here.
How does it work?
Your money is invested via the MyMap funds which spread your money across a wide range of BlackRock's iShares passive tracker funds. These funds correspond to a mix of stocks, bonds and other alternative assets like real estate across the world.
The four different risk levels you can choose broadly correspond to four different splits between stocks, bonds and other assets, where a higher proportion of stocks generally means higher risk level and higher expected return.
The split between stocks, bonds and other assets is dynamic, which means it can shift depending on what is happening in global investment markets. This is what gives your money that extra layer of protection.
Pensions are a long term investment, so it is generally a good idea to use low cost investment options that give you the best chance of growing your money over the long term.
BlackRock do this by giving you exposure to potentially high growth global stock markets, but protecting your money through diversification and intelligent risk management.
Want your money to make the world a better place?
When your money is invested in global stocks and bonds, it means it is funding lots of different companies in lots of different countries and industries.
We believe there should be a way to grow your money in a safe way over the long term while also funding companies that make a really positive change in the world, like helping the environment or increasing social equality.
At the moment, most of the funds that only invest in companies making a really positive change in the world don't quite satisfy our other fundamental requirements for growing your money and keeping it safe, being:
Broad diversification
Low cost
Managed risk
We are working around the clock to try and find an option that ticks all of these boxes, and as soon as we find the best one we will make it available to all our customers. In the meantime, if you're interested in seeing ESG and sustainable investment options from Penfold, feel free to get in touch with us at hello@getpenfold.com and tell us what you're looking for in terms of a pension that helps make the world a better place.
Create an account with us today and start saving for your future.
With pensions, as with all investments, your capital is at risk and the value of your pension with Penfold may go up as well as down. You may get back less than you put in.