How to find lost pensions
If you don't know your pension number, you can track everything down in a few different ways.
If you have a Penfold pension, you're in luck. That's because you can use our "Find My Pension" service to help you track down any lost or forgotten pots. All you need is the name of your old employer. 
Sign in and hit "Transfer Your Pension", then "Find My Pension" to get started. We'll give you everything you need to retrieve the details from your old pension provider.
If you're not a Penfold saver, then you may have to play detective. First, you'll need to find out who your pension provider is. If you're not sure, try these steps to find out:
Type in your old employer's name into the search box. If no options appear, then move on to step 2.
2. Search 'pension' in your email 
Check your email inbox and trash to see if your provider has sent you any emails about your policy. Still no luck? Try step 3.
3. Call your old employer
If the pension was provided by a previous job, call or email your old HR department and ask where your old workplace pension was set up. You'll only need to know when you worked there and your National Insurance number. They'll be able to confirm the name of your pension provider.
Now all that's left to find is the policy reference number. Simply give your provider a call and tell them your name, the name of your employer, and your National Insurance number.
Once you've gone through their security questions, they should be able to give your pension number.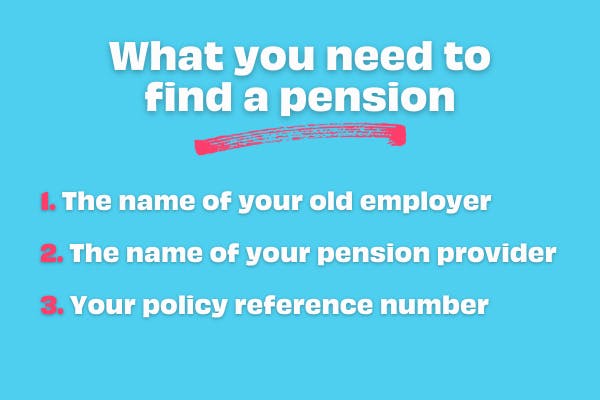 Transferring your pensions
Once you've gathered all of your old pension details, you may want to combine them into a single pension plan. 
There are many benefits of doing this, including lower fees and easier tracking and management of your finances. 
Many pension providers offer a transfer service and can organise everything for you. Just be careful as some may charge a fee for this.
For more on this, check out our article on how to transfer a pension.
Combine pensions with Penfold 
Penfold can transfer all your pensions completely free - no matter how many you have, how small they are, or what provider you're with.
We streamline the entire process to make transferring a doddle. It's entirely online, requires no paperwork, and should only take 5 minutes. 
If you want to transfer existing pensions to Penfold, simply create an account and request a transfer today.
As with all investments, your capital is at risk. The value of your investment can go down as well as up, and you may get back less than you invest.