What is a workplace pension?
A workplace pension is a type of pension set-up by your employer to help you prepare for life after work.
During your time working for your company, you'll build up a savings pot which you can then access when you're ready to retire - helping to provide an income in later life.
Most workplace pensions today require contributions from both you and your employer. Some older style or public sector pensions will be completely covered by your employer, without you having to pay in.
You may also see workplace pensions referred to as an employer pension, company pension or an auto enrolment scheme. They all broadly refer to the same thing.
When did workplace pensions start?
Modern workplace pensions we use today began life after the 2008 Pensions Act.
Following a thorough review of pensions in the UK, the government decided to take steps to address what was seen as a pension savings crisis.
People simply weren't putting enough money away for the future. This led to people working longer and becoming increasingly reliant on the State pension.
The key change to help fight this was switching to an opt-out scheme for employer pensions - meaning every employee should get some sort of pension automatically.
In 2012, the government made it obligatory for companies of a certain size to offer a pension to their employees. It was then made mandatory for all companies in the UK to automatically enrol all eligible employees into a pension scheme in 2018. More on what constitutes an 'eligible employee' a little later.
How do workplace pension schemes work?
There are two main types of employer pension scheme:
Defined contribution
Defined benefit 
Most company pensions today are defined contribution. You and your employer pay into your workplace pension scheme every month for as long as you're employed. 
Your contributions will come straight from your pre-tax salary - with your employer automatically adding their share on top.
Often, you'll need to agree to contribute a certain amount to benefit from your employer contributions, usually 3% as a minimum.
Everything added to your pension will then be invested into a pension fund.
The value of an auto enrolment pension comes from how much you and your employer have paid, as well as how well your chosen pension plan has performed.
Some companies (particularly in the public sector) offer defined benefit pensions - also called a 'final salary scheme'. Here, how much you receive in retirement is defined by your salary and how long you've worked for your company, among other things. Today, defined benefit pensions are becoming less and less common.
If you're paying into your pension yourself, you'll also benefit from tax relief on your contributions from the government. 
Tax relief for workplace pensions works in three different ways:
Before you pay tax (known as 'Net Pay')
After you're taxed (known as 'Relief At Source')
Salary sacrifice
Your employer will decide which method your company pension uses.
Net Pay
With Net Pay, your employer takes your pension contribution from your monthly wage before you pay any tax.
When you get paid, you'll receive your monthly salary minus your pension contribution. Your employer adds it to your pension for you, meaning you won't pay any income tax or National Insurance on this part of your earnings.
It happens automatically and you won't have to claim any tax relief yourself. Whether you're a basic, higher or additional tax payer, you save tax at your marginal rate.
Here's what that looks like for a £250 contribution.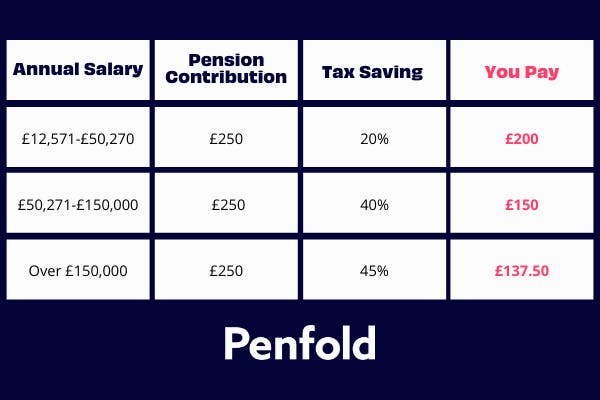 The Net Pay approach reduces your overall take-home pay, reducing the amount you owe in tax. Essentially, you get to keep more of the money you've earned.
Relief at Source
Relief at Source means your pension contributions are taken out of your salary after you've paid tax on your earnings. Here's how it works.
First, you'll pay income tax and National Insurance on your earnings as normal. Your employer will then take your pension contributions from your pay before it arrives in your bank account
Your contribution will be sent to your workplace pension provider who claims tax relief back from the government at the basic rate.
For anyone earning under £50,270, that means you'll save 20% tax on everything you pay in. It's worth noting that you won't receive any tax relief on contributions from your employer.
This applies even to those who don't pay any income tax  - making it a fantastic way to boost your pension savings.
Let's say you want to add £100 into your pot. £80 will come from your salary, with the remaining £20 coming from the government as a tax top-up.
Higher earners can earn even more back, but you'll need to do this yourself via your self-assessment tax return - check out our guide on tax relief for high earners. 
Salary Sacrifice
One final type of pension arrangement offered by employers is salary sacrifice.
This is a government-backed scheme where employees can swap part of their salary for regular pension contributions.
Instead of paying into your pension from your monthly earnings, you voluntarily give up a small part of your income - your employer then pays this (plus their contribution) into your pension on your behalf.
By reducing your salary 'on-paper', you also reduce your income tax and national insurance, helping you keep more of what you earn.