How much tax will I pay on my pension?
Ok, so now we know you may need to pay tax to access your savings, you're probably asking yourself: how much tax do I pay on my pension? Let's start by looking at lump sums.
Tax on pension lump sums
The good news is, you can usually take out 25% of your total pot without paying a penny in tax. This is called the tax-free lump sum.
For most, this 25% is a one-and-done deal. Once you've taken it out, the rest of the money you take from your pension will be taxed as income, like a salary from a regular job. That means the amount you owe in tax depends on the size of your pot and how much you'd like to withdraw.
The only exception to this rule is something called uncrystallised lump sums. This is where instead of taking one big tax-free payment from your pension in one go, you take the tax off of each withdrawal on an ad-hoc basis.
Using this method, 25% of each withdrawal is tax-free, with the remaining 75% being taxed as normal.
Income tax on your pension
The first £12,570 each year comes under your Personal Allowance. This is the amount a pensioner can earn before they have to pay tax.
Anything you withdraw that puts your total annual income above this threshold however will be liable to income tax. At the basic rate, this means you'll need to pay 20% back to the government yourself.
Withdrawing higher amounts may also push your income into the higher and additional tax bands. Here's a reminder of the limits.
Pension tax rates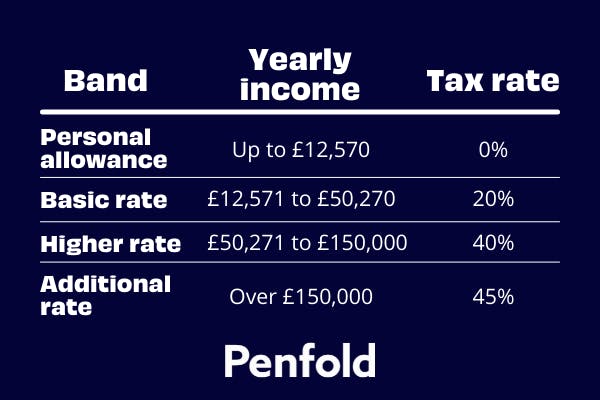 When you're ready to access your pot, you need to be aware of all the pension withdrawal tax rules to save yourself any surprise pension savings tax charges.
The other thing to keep in mind is how you're accessing your pot. Choosing to take your pot at regular intervals, known as drawdown, will incur pension drawdown tax, payable as income like we outlined above.
Or, if you'd like to pass your pot on to a beneficiary, you'll need to check what happens with pension inheritance tax.